*Those who are thinking of using the J-SUPPORT's name in their official document should read the information provided below carefully
It is essential to follow the instructions below before stating the J-SUPPORT name in a protocol or grant application.
・Set up a consultation session after providing information about your research on this form.
・As soon as the form is reviewed, the Administrative Office will introduce an appropriate mentor to set up an interview
・When your request is approved by the Administrative Office and mentor after the interview, use the following statements:
1 Before being approved by the Scientific Advisory Meeting: Clearly state that you are currently in consultation with J-SUPPORT.
2 After being approved by the Scientific Advisory Meeting: Clearly state a J-SUPPORT research No. assigned to you.
J-SUPPORT Research Roadmap
At J-SUPPORT, a research roadmap is used in supporting research projects. Researchers who are planning to set up a consultation session should look over the roadmap carefully. The image will be enlarged when clicked.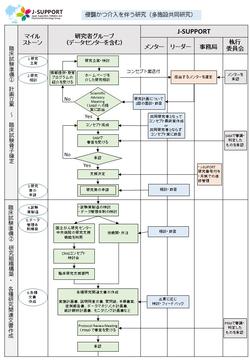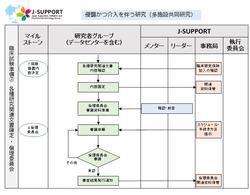 Clinical Research Consultation
Set up a consultation session using this form
e-Learning Site
Introduction to clinical trials at the Introduction to Clinical Research (ICR)
We introduce the ICR e-Learning site where all the knowledge about conducting a clinical study is provided. Registration is required.

Mentorship
It has been pointed out that, in the field of biomedical sciences, Japan is not globally competitive in patient-oriented research, which is about ensuring that patients promptly receive medical intervention that is tailored to them based on accumulated scientific evidence. J-SUPPORT is also actively involved in the vitalization of clinical research in supportive care for cancer patients and in the cultivation of next-generation researchers who carry the weight of expectations for delivering research outcomes. J-SUPPORT has established a carefully tailored mentoring program, and at each member's request, mentors with extensive experience in research will provide mentoring services for the planning and designing of a research project, statistical analysis, the assessment of an ongoing research project, and the preparation of presentations and manuscripts

Protocol Review
J-SUPPORT has incorporated the Protocol Review Committee (PRC) system to review the concept of clinical research protocols that have been proposed after vigorous discussion in each Research Area, with the participation of the members of other J-SUPPORT research groups and non-healthcare professionals. The PRC holds two types of committee meetings: the Scientific Advisory Meeting (SAM) and the Protocol Review Meeting (PRM). In the former, committee members discuss the concept of protocol with the emphasis on its feasibility (whether the study can be completed) and exit strategy (what impact the study makes after completion). Then, for a protocol concept that has passed the SAM, an actual protocol is created based on the concept, and its social validity is discussed in the PRM with the participation of external committee members who are non-healthcare professionals. Instead of focusing on critical scrutiny, the PRC encourages the members to make constructive comments and suggestions to refine the study in order to promote the participation of young researchers.

Clinical Research Seminars
Educational seminars on clinical research are strongly needed based on the data of needs surveys about clinical research education and training programs offered in Japan and on the experience of healthcare institutions that provide leading-edge clinical research education and training.
J-SUPPORT offers clinical trial workshops on supportive care in cancer, where healthcare professionals with clinical experience and a research-oriented mind can learn about clinical challenges required for supportive care in oncology as well as key points that should be addressed when planning related clinical research. In addition to lectures, J-SUPPORT also provide interactive learning opportunities, including practice based small group learning and simulated peer review.