Our mission is to continuously improve the quality of life (QOL) of cancer patients and their families through the establishment of a permanent system for multicenter clinical studies.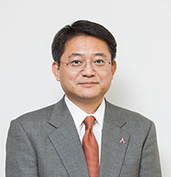 Supporting and caring for people who are ill is the cornerstone of medicine. Yet, when you start looking into the causes of illness, it is easy to focus on the details but to lose sight of what's important—taking care of patients and their families. In addition to improving patients' QOL, palliative care, psychosocial oncology, and supportive care are ebb and flow that bring us back to the cornerstone of medicine. Up to now, support for people who are ill has been provided in various forms as part of basic healthcare by various professions, but such support has not been established as standard treatment or care, for example, in cancer therapy. In particular, supportive care for the adverse effects of cancer chemotherapy—such as nausea, numbness, hair loss, cancer-related fatigue, pain, anxiety, depression, and delirium—has not been routinely provided in clinical settings due to a lack of scientific evidence, even though the guidelines for managing these symptoms have been established.
As a developed nation, Japan should seek to establish a system of evidence-based standard treatment and care across the field of supportive care. However, to realize this, we need to address problems associated with a lack of infrastructure, such as a clinical study system for supportive care and an established assessment system for QOL, including symptom assessment scales. For supportive care, we have only recently begun to see reports from multicenter clinical study groups, including high-volume centers, in Australia and the United States. Development of an educational and training system is also important, in addition to establishing a system to incorporate and spread evidence-based supportive care across Japan. Taking a step back, it is clear that unless a system for developing and implementing supportive care is systematically maintained based on an accurate assessment of chronological changes in supportive care needs, it will be impossible to address the needs of cancer patients and their families, which change drastically with the times.
The Innovation Center for Supportive, Palliative, and Psychosocial Care was recently established on the Tsukiji campus of the National Cancer Center. At the same time, J-SUPPORT was also established as a permanent hub for multicenter clinical studies and research, with support from the National Cancer Center Research and Development Fund (A-27-3). Special efforts have been made to enrich our mentoring system for supporting new scholars from the beginning, instead of merely providing management and audit services. Together with you, we would like to develop novel supportive care, establish a QOL assessment scale, and develop a system to regularly monitor the needs and provision of supportive care. To vitalize the interaction between researchers, I invite you to apply for J-SUPPORT membership. With your help, we can develop a nationwide researcher map and cultivate exchanges among J-SUPPORT members.
Lastly, I would like to take this opportunity to thank everyone involved in the planning and establishment of J-SUPPORT for their valuable and immeasurable guidance and support. The term J-SUPPORT expresses our aims to care for people who are ill and to support researchers and the development of supportive care. With you, J-SUPPORT aims to establish a permanent system for multicenter clinical studies and continuously improve the QOL of cancer patients and their families. I sincerely look forward to many young researchers starting their careers and making a positive impact.
Yosuke Uchitomi, M.D., Ph.D.
President, Japan Supportive, Palliative and Psychosocial Oncology Group, J-SUPPORT
March 2016